A world of discovery awaits your child at Noah's Park…..
This exciting weekday early education ministry has been carefully designed to provide a safe, nurturing environment conducive to child growth and development, while offering the flexibility and features most sought after by parents. We would enjoy the opportunity to meet with you to answer questions, show you our facilities, and discuss how we can partner together to provide an exceptional level of care and instruction for your child.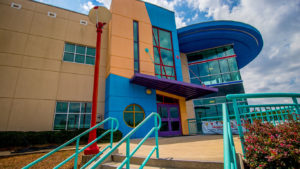 Our Mission…
As a ministry of Northpark Baptist Church, Noah's Park Weekday Early Education is dedicated to providing each child with a loving and nurturing environment where all children can grow and thrive in a Christlike setting while receiving the highest of quality education and care during their early developmental years.
Teacher Certification and Experience
We are so proud of our Noah's Park staff, and we believe you'll find none finer. Many of our teachers have a Bachelor's Degree in education or child development, an Associate's Degree in education or child development, or have a CDA (Child Development Associate) credential. The CDA is the most widely recognized credential in early childhood education. Additionally, most of our teachers have at least five years of experience in the field of early childhood education. Our teachers are also required to complete twenty hours of continuing education every year.
Low Student/Teacher Ratio
Our low student/teacher ratio ensures that each child will receive individualized attention. We strive to keep our student to teacher ratio well under the numbers required by the State of Alabama guidelines.
Onsite "Field Trips" and Special Events
One of the most exciting things about being a student at Noah's Park is the opportunity to experience our on-campus "field trips." Parents enjoy the peace of mind knowing their child can participate in these activities without the worry of their child being transported in a van or bus. Each fall, the Alabama Symphony Orchestra performs their Explorer Concert on our campus. Twice a year, Birmingham Children's Theater performs a show at Noah's Park. Our annual Pumpkin Patch Day is another fun-filled event our students look forward to each year. It is a day filled with fun activities our students get to experience while never leaving the safety of NorthPark's campus.
Additionally, our 3K classes have a ball at our annual Cowboy Day, our 4K and 5K classes learn about new cultures on Around-the-World Day, and families join together to participate in our Fall Feast held each year near Thanksgiving. Near the end of October we have fun with our Book Character Dress-Up Parade and Party, and other holidays are celebrated with class parties throughout the year. Parents and grandparents always look forward to our two annual programs, one near Christmas and one near the end of the school year.
Safety and Security
Keeping your precious babies safe is our top priority! There are only three entrances to the preschool area, and they are locked at all times. In our classrooms, chemicals used for cleaning are in locked cabinets that are well out of the reach of children. In case of sickness or injury, we have an RN on staff who has spent her career in the field of pediatrics. Every staff member is certified in CPR and first aid. Our students practice regular fire drills, weather drills, and intruder drills. As an added precaution, due to our proximity to Hewitt-Trussville High School, Clay-Chalkville High School, and Clay-Chalkville middle school, we make it a policy to go into lockdown mode anytime one of these schools calls for a lockdown.